Samson Launches New Website
HICKSVILLE, NY (June 21, 2023) – Samson, an industry pioneer in professional audio products, is excited to announce the launch of its newly redesigned website at samsontech.com. The website offers an entirely new user experience with a responsive interface that is optimized for smartphones, tablets and computers.

Designed to offer visitors an intuitive, user-friendly experience, the new website features in-depth content focused on Samson's wide array of products that include microphones, wireless systems, portable PAs, mixers, headphones, and more. New enhancements also include expanded product highlights, technical specifications, comparison charts, buyer's guides, a knowledge base, and articles written by the industry's top experts. Accessibility was at the heart of the redesign, and compliance to the latest WCAG standards allow the site to be used by everyone.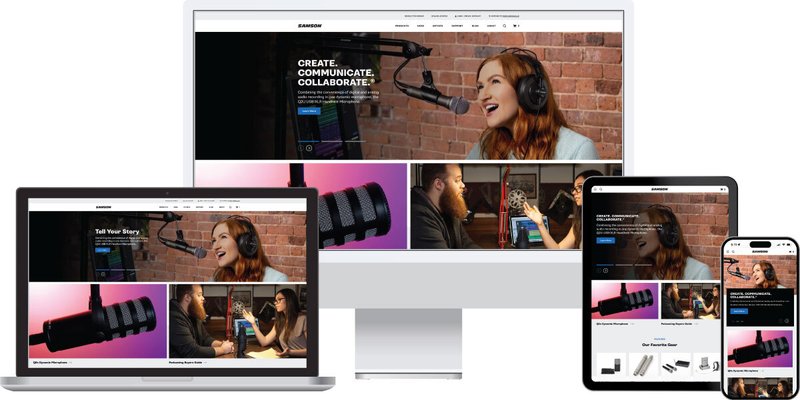 "We are proud to announce the official launch of our new website as part of the evolution of the Samson brand. The new site provides visitors with a more robust platform to learn about Samson's innovative products and solutions," said Jack Knight, President of Samson.

"Our main goal when designing the new website was to give users a better customer experience and to provide them with all the product information needed to make informed purchases. This new website enhances the Samson brand and further demonstrates our commitment to our customers and business partners," commented Sean Meagher, Director of Marketing of Samson.

Key Website Features:
Products: Users can explore Samson's comprehensive product offerings, conveniently categorized by product category to quickly find their desired audio solutions.

Uses: This section provides easy navigation for customers to discover products based on specific uses, ensuring they find the perfect solution for their application.

Artists: This section showcases all the world-class artists and influencers who use and rely on Samson products.

Blog: The blog features a wealth of articles, advanced tutorials, product buyer's guides, and interviews with top influencers, providing valuable insights into Samson's innovative products.

Support: Customers can access a wealth of resources, including a knowledge base, product manuals, firmware updates, nearest service centers and other invaluable support materials to ensure a seamless experience with Samson products.
Furthermore, the website hosts an extensive support section catering to online orders and tracking, returns, warranty/repair services, product FAQs, product registration, and an "About Us" section for Samson's company history, latest news, and career opportunities.
About Samson:
Samson Technologies began in 1980 as a pioneer in wireless microphone technology. Today, Samson is an industry leader in professional audio solutions whose products are known for their fidelity and reliability. Samson products are preferred by recording artists, performers, educators and audio professionals throughout the world. To connect with Samson, visit samsontech.com, YouTube, Twitter, Instagram, or Facebook.